Sponzorované odkazy:

Již dříve ohlášená nová verze navigačního systému Be-on-road byla oficiálně představena koncem minulého týdne a dnes vám přinášíme jeho první podrobnou recenzi. Budete se moci sami přesvědčit jak výrazně se aplikace změnila a zda změny zvýšili konkurenceschopnost na náročném trhu navigačních systémů. Recenze navazuje na PR článek, který k datu uvolnění komerční verze Be-on-road 2.0 vydala brněnská společnost
Aponia Software s.r.o.
. Uvedený PR článek je důležitý i vzhledem k tomu, že informuje o cenových relacích nového verze i o tradičně velkorysém vztahu ke stávajícím zákazníkům. Ten se projevuje neobvyklým upgrade zdarma i výhodnými cenami upgrade na vyšší verze, resp. verze s rozsáhlejšími mapovými podklady. Najdete tam i souhrn novinek, které verze 2.0 přináší. Již z předchozích PR článků Aponie a hlavně z uvolněných screenshotů bylo zřejmé, že jde o průlomovou verzi, která přináší zásadní změnu designu aplikace a mnoho dalších funkcí. Následující řádky by vám měli ukázat, jestli tomu tak skutečně je. Pro porovnání se pak můžete podívat na rozdílovou recenzi starší verze
Be-on-road Central Europe 2006.7
.
Instalace
Na Instalaci se toho moc nezměnilo nebo alespoň jsme si ničeho zásadního nevšimli. K dispozici jsou dvě cesty jak produkt zakoupit a instalovat. První je klasický nákup CD/DVD a druhou cestou je zakoupení přes Internet s následným stažením software a jeho instalací. To je také cesta pro ty, kteří již licenci BOR (Be-on-road) mají a chtějí využít neuvěřitelného upgrade zdarma, který Aponia svým zákazníkům nabízí. V tomto případě stačí vstoupit na oficiální stránky
BOR
, a to do tzv. Samoobsluhy, kde na uživatele čeká 722,54 MB velký instalační soubor (pro verzi Central Europe) a čtyřbodová instrukce, kterou je nutno dodržet. Stažení takového objemu dat může při pomalejším připojení trvat, ale trpělivost se v tomto případě vyplatí. Na stejné stránce je i podrobná elektronická příručka k systému ve formátu PDF, která obsahuje vyčerpávající návod na instalaci a detailní popis ovládání programu. Samotná instalace je velmi jednoduchá, což platí i v případě nákupu nové produktu. O většinu se postará nový Be-on-road Wizard. Nezbytnými kroky jsou registrace produktu a aktivace, které jsme již popisovali v předchozích recenzích
Be-on-road
.
Start aplikace
První znatelnou změnou je startovní obrazovka a následně seznam jazyků, který jsme si vybrali a nainstalovali v rámci instalace...
Po výběru jazyka se okamžitě dostáváme na hlavní obrazovku, která je nastavena do mapového režimu. Již zde si můžeme všimnout změny grafického provedení oproti předchozí verzi.Kontrastní červenou a tmavě modrou nahradila vzdušnější bleděmodrá barva a můžeme si všimnout i barevných 3D ikon...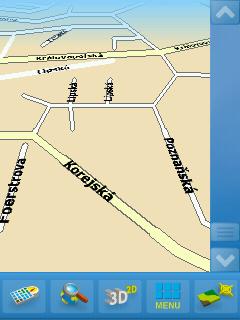 Vpravo je posuvník pro zoom mapy, dole je 5 ikon. Po ikoně pro přepnutí z mapového do navigačního režimu následuje ikona pro hledání, pak pro přepnutí do 2D/3D a menu...
Hlavní menu aplikace
To nejdůležitější se skrývá zde. Menu obsahuje všechny potřebné volby, které si postupně probereme, i když nikoli po pořádku. Následující screenshoty ukazují kompletní menu v první úrovni. Jak sami vidíte, jsou zde přehledně označená a relativně velká tlačítka, která umožňují bezpečné používání i během jízdy. Každé tlačítko má kromě výrazné a snadno rozpoznatelné ikony i popisek...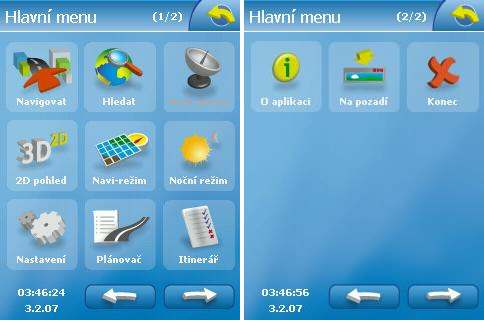 Nastavení
Než se pustíme do práce s navigací a zkoušení nových funkcí, musíme nastavit program, podle našich představ, ale hlavně musíme nastavit komunikaci s GPS přijímačem. Zvolíme tedy volbu
Nastavení
...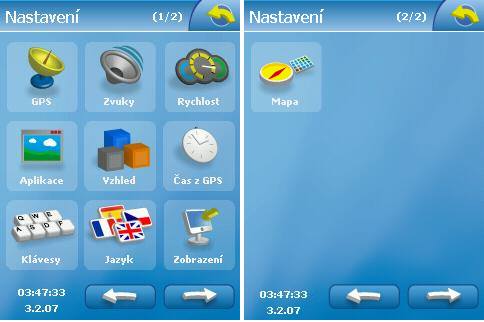 ... a pak
GPS
, kde zaškrtneme volbu "Autotetekce" a necháme připojení vyhledat. Je to pohodlné a rychlé...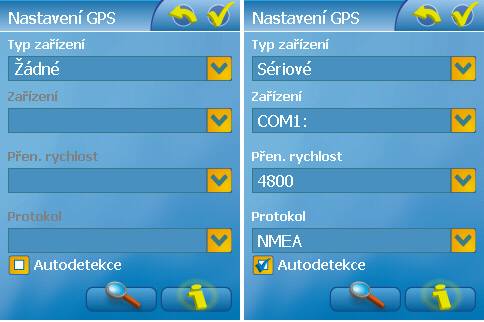 Pokud chceme, můžeme se podívat na podrobnosti, tj. souřadnice, čas (GMT) a stav signálů z družic...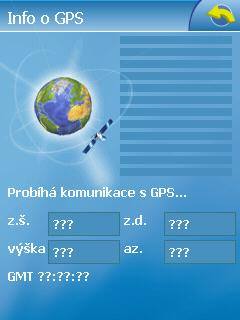 Vrátíme se do nastavení a zvolíme další tlačítko "Zvuky", kde nalezneme výběr možností pro hlasovou navigaci...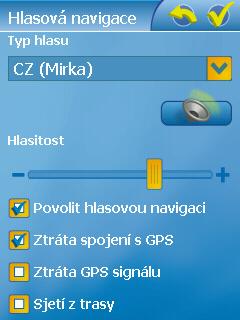 Příjemné hlasy Mirky a Zdeňka doplňují hlasy cizojazyčných mluvčích, pokud si uživatel nechal nainstalovat jejich podporu. Dále můžeme vybrat, jestli chceme hlasovou informaci o stavu signálu a sjetí z trasy. Pro někoho zbytečné až obtěžující, jiný bude spokojen. Tady volba závisí výhradně na uživateli a jeho představě o fungování navigace. Další volbou v
Nastavení
je "Rychlost". Jedná se o jednu z užitečných novinek verze 2.0., která má na starosti hlídání a hlavně upozorňování na překračování rychlosti. Všimněte si volby "Pouze ověřená data". Je velký rozdíl mezi jízdou bez ověření a s ověřením. V praktické části recenze si o tom řekneme více. Dobrou vychytávkou je i možnost nastavení tolerance, která se může pohybovat od "0" až po 30% (odstupňováno po 2%). Tím lze eliminovat nepřesnost tachometru nebo zadat "toleranci" policie...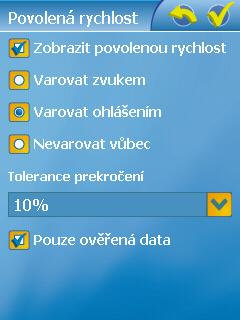 Následují volby "Aplikace", ve které oproti předcházející verzi přibyla QWERTY klávesnice, a "Vzhled", kde si kromě 3 skinů, můžeme nastavit automatické přepínaní mezi denním a nočním režimem podle aktuálního času. Skvěle vymyšleno!
A nyní několik screenshotů v různých barevných variantách a v nočním režimu...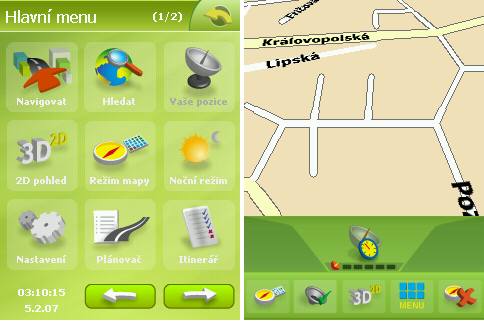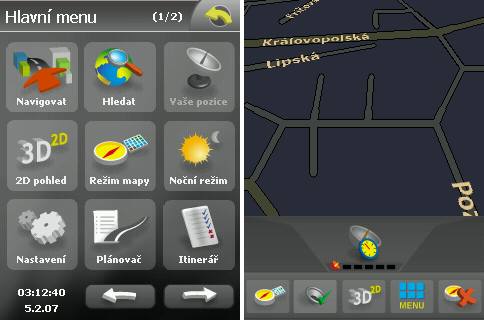 Tady je třeba pochválit designéra, který dělal ikony a vybíral barvy. Prostředí aplikace je elegantní a zároveň dostatečně transparentní. Výrazné ikony se od sebe liší a nemělo by docházet k omylům při volbách. Velice příjemný je i noční režim, což jsme ocenili i při našem testování, kdy nedocházelo ke zbytečnému oslňování a únavnému "tahání za oči". Další volbou je čas z GPS, díky kterému lze automaticky nastavovat přesný čas. Velice praktická záležitost...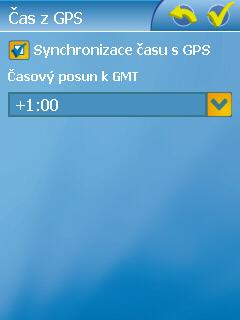 Posledními řada tlačítek obsahuje volby "Klávesy", které definují klávesové zkratky a mapují hardwarová tlačítka, "Jazyk" a "Zobrazení", které upřesňuje poslední detaily nastavení...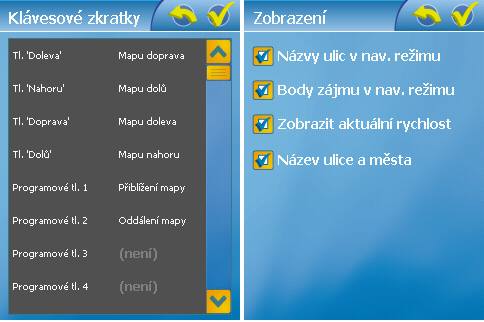 Nyní se vrátíme do hlavního menu a prohlédneme si důležité tlačítko "Navigovat"...
Navigovat
Opět jsme v dalším menu, které nám nabízí 7 možností určení cíle. Položky "Domů", "Do práce" a "Oblíbené" nastavíme tak, že přepneme do mapového režimu a do 2D zobrazení. Následně vyhledáme požadované místo a dvojitým ťuknutím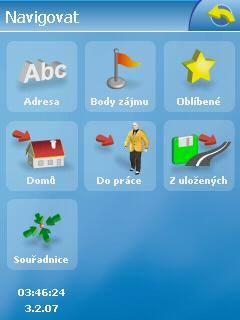 Položky "Adresa" a "Body zájmu" doznaly grafických změn, ale jejich podstata se nezměnila. Pouze u bodů zájmu přibyly volby "Blízko cíle" a "Blízko adresy". Obě představují zajímavou inovaci, která může být velmi užitečná. Díky nim si lze zjistit, zda a kde se nachází potřebná místa. Například, kde jsou nejbližší parkoviště blízko cíle a tak podobně. Dobrý nápad!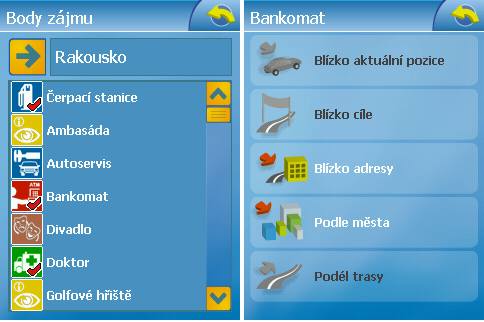 Volbu "Adresa" nesmíme jen tak pominout. Vždyť se jedná o jednu z nejdůležitějších a nejčastěji používaných voleb ve všech navigačních systémech. Podívejte se tedy na několik screenshotů, které tuto volbu charakterizují...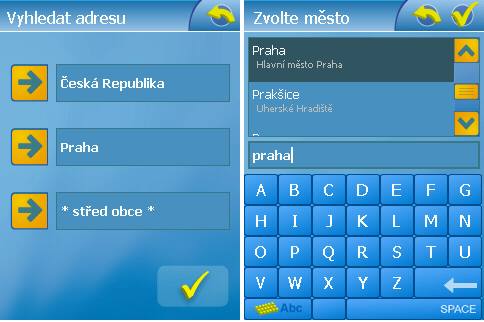 Vše naši čtenáři znají z předchozích verzí, takže jen krátce. Prvotní je zadání cílové země, následuje zadání města a ulice. Upřesnění lze zadat podle dostupných informaci. Nejpřesnější je číslo popisné domu, pokud jej neznáme může pomoci nejbližší křižovatka a pokud neznáme ani tu, pak přichází na řadu volba "Kdekoliv" a nezbývá než po dojetí se doptat nebo jinak dohledat cíl...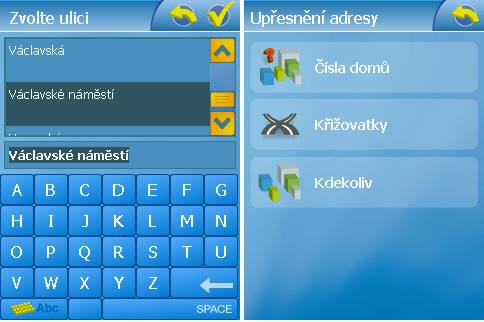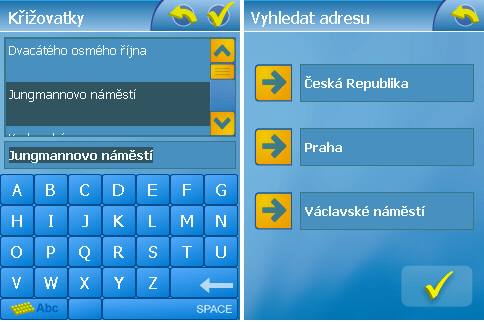 Poslední je výběr trasy a povolení nebo zákaz placených úseků. Pokud toto všechno máme zadáno, můžeme vyrazit na cesty...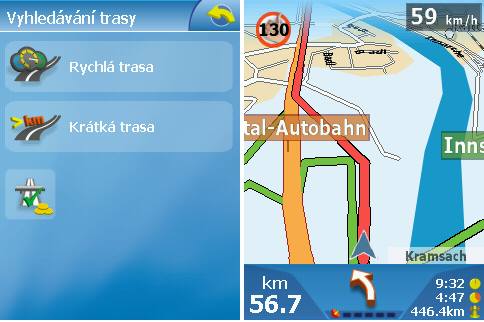 Na navigační obrazovce (navigační režim) je nyní možno vypnout zvuk, což je nová funkce, které také nelze upřít užitečnost. Hodí se například v případech, kdy je nutno telefonovat a hlasové navádění a upozornění by rušily hovor...
Poslední screenshot ukazuje nové prostředí pro plánovač tras, který se přesunul na první obrazovku menu, kde je jeho logické místo. Ikona s volantem patří simulaci trasy, ostatní je jako u předchozí verze, tj. přidávaní a odebírání bodů trasy a změny jejich pořadí...
Praktické testy a dojmy:
S navigací
Be-on-road 2.0 Europe
jsme tentokráte stačili najezdit pouze něco kolem 300 Km, což není zrovna mnoho, ale snažili jsme se otestovat chování programu v problematických místech, při sjetí s trasy a tak podobně. Projeli jsme 3 větší města a nechali se navádět na čísla popisná i různé body zájmu (POI). S potěšením musíme konstatovat, že BOR 2.0 se choval vzorně. Žádné náznaky nestability, dlouhého přepočítávání nebo jiných potíží.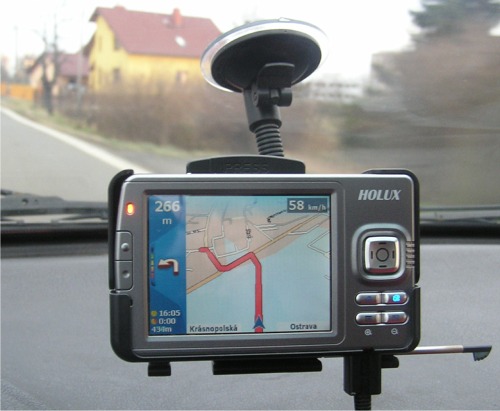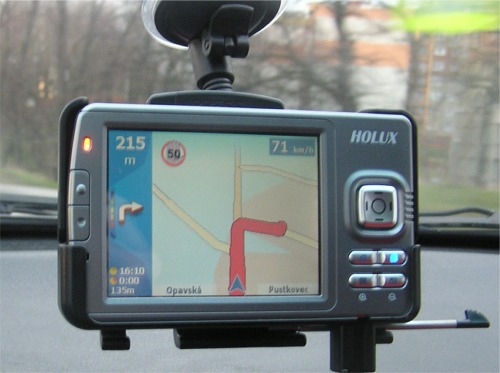 Potěšil nás systém varování při překročení rychlosti. Je ovšem pravdou, že při častém překračování nebo při špatně nastavené toleranci může začít obtěžovat. Bude záležet na typu řidiče. Někteří jej vypnou (a zapnou až při hrozící ztrátě 12. bodu), někteří opatrnější řidiči tuto funkci ocení. V nastavení je volba "Pouze ověřená data", která se po vypnutí může působit problémy, protože vždy neodpovídá značení na silnici a velice často hlásí překročení. Toto se nám stalo několikrát, kdy značka dovolovala 70 km/hod, ale navigace se na nás zlobila už při 56km/hod. Se zapnutým ověřením, tyto problémy nebyly, ale také nás navigace méně hlídala, protože zřejmě neměla relevantní data. V každém případě jde o výbornou funkci, která může řidičům ušetřit nemalé peníze za pokuty a dokonce je ochránit před ztrátou řidičského oprávnění. Dalším z praktických postřehů je evidentní zrychlení aplikace při přepočítávání trasy. Je vidět, že tady Aponia zapracovala nad stesky některých zákazníků. Pochválit musíme i noční režim, který je zpracován velice citlivě. Neoslňuje řidiče ve tmě, ale dovoluje pohodlnou orientaci v menu i na obrazovce navigačního režimu. Noční režim v praxi...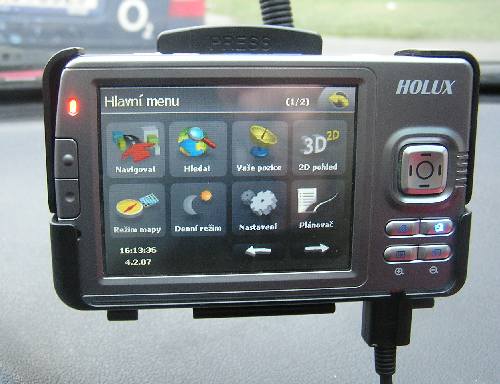 Závěr:
Navigační software
Be-on-road 2.0
patří k současné špičce původních českých navigací a může se směle srovnávat i se zahraniční konkurencí, nad kterou vítězí cenou, sympatickou politikou vůči stávajícím zákazníkům a snadnou ovladatelností programu. Přehlednost nového uživatelského rozhraní je silnou stránkou produktu a celkově velice zdařilá grafika snese porovnání s jakýmkoli světově uznávaným produktem v této oblasti. Jde o moderní a dobře zpracovaný navigační systém, který nabízí dostatek zajímavých funkcí, ale hlavně ergonomicky promyšlené ovládání. Rezervy vidíme v absenci podpory systému TMC/RDS, který se stává standardem. Uživatele se slabším zrakem by jistě potěšily větší číslice informující o době dojezdu, času k cíli a zbývající trase. Pokud by v některé z příštích verzí byla zakomponována i možnost operativního výpočtu alternativních tras (objížďky) a již zmíněné TMC/RDS, mohl by
Be-on-road
pomýšlet na nejvyšší příčky a rovnocenný souboj s navigacemi typu TomTom. Cena za variantu Europe je 3.269,- Kč + DPH a cena za variantu Central Europe je 2.650,- Kč + DPH. To jsou velice příjemné ceny, při uvážení rozsahu a podrobnosti mapových podkladů i kvality produktu. Stávající zákazníci mají upgrade zdarma, což je věc velice vzácná a potěšitelná. Za zapůjčení navigačního systému
Be-on-road 2.0 Europe
děkujeme společnosti
Aponia Software s.r.o.
, která je producentem tohoto moderního navigačního systému.
Sponzorované odkazy: